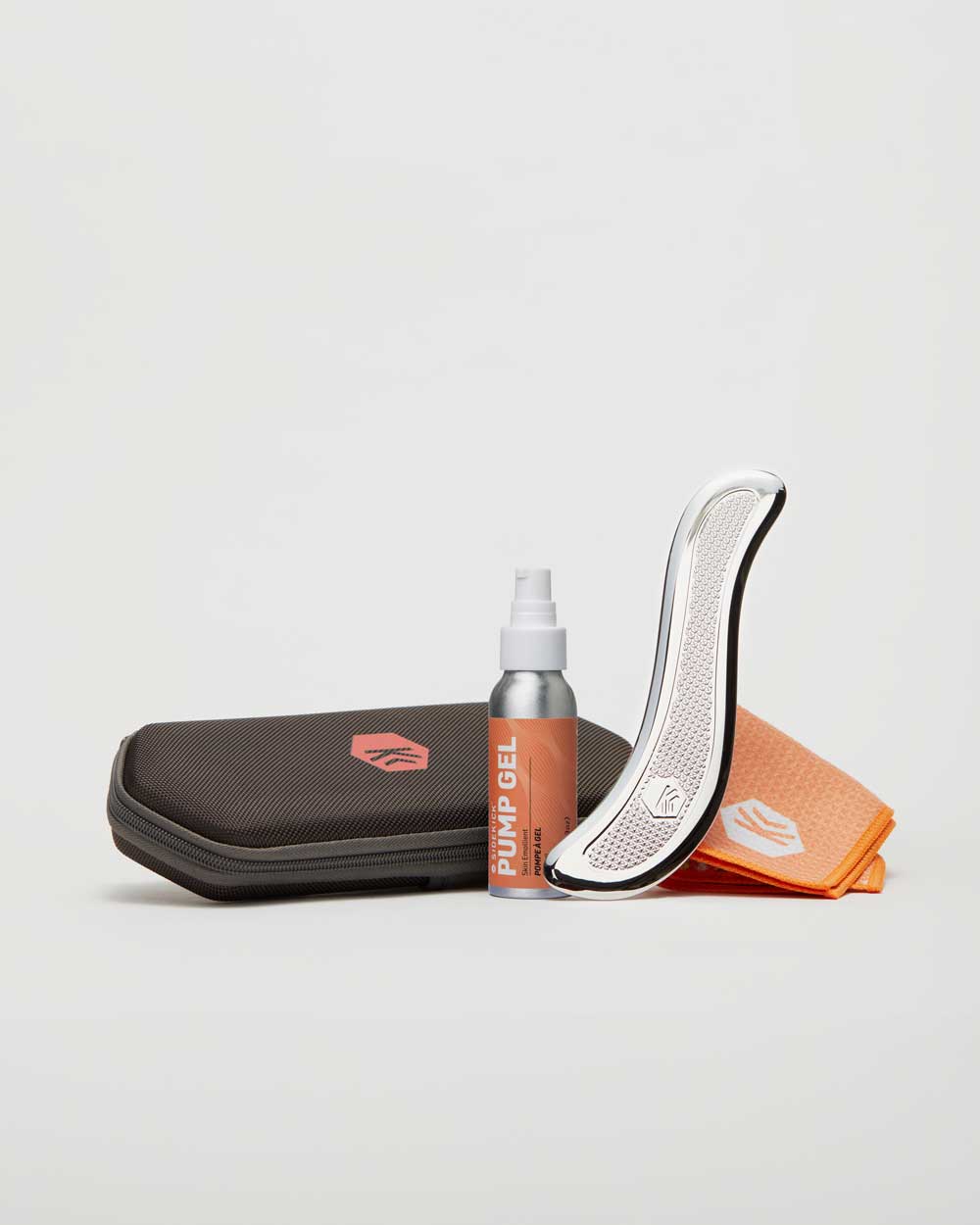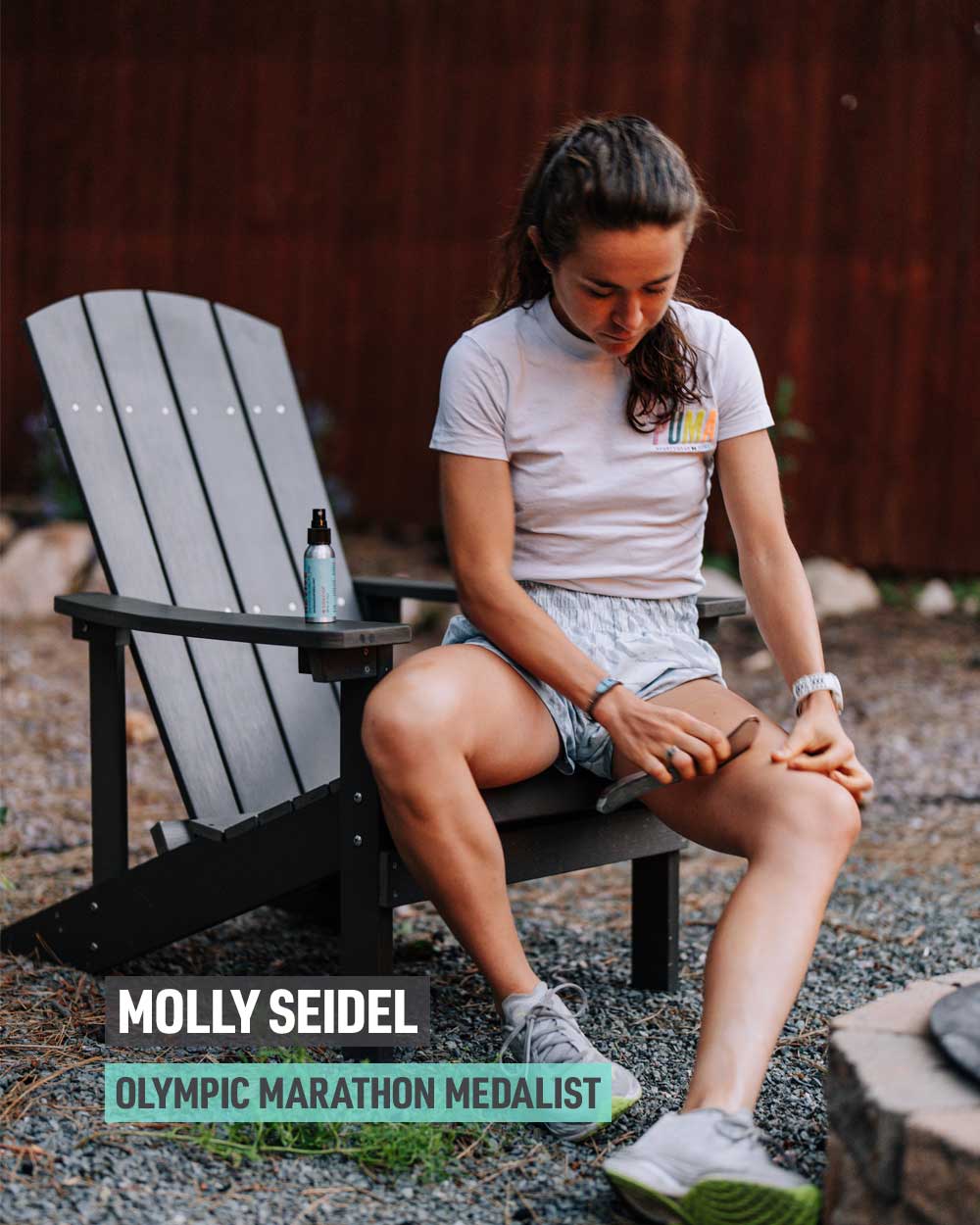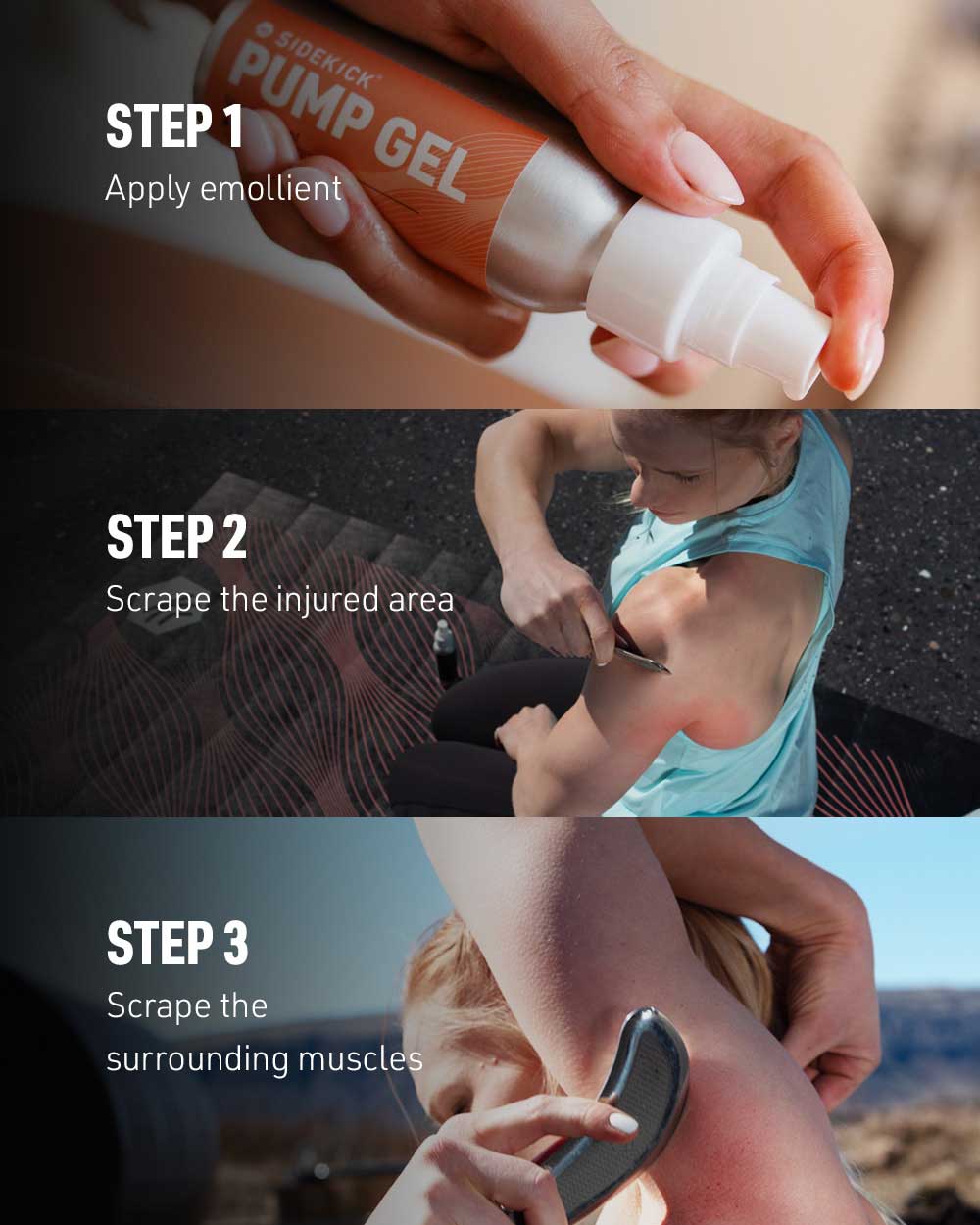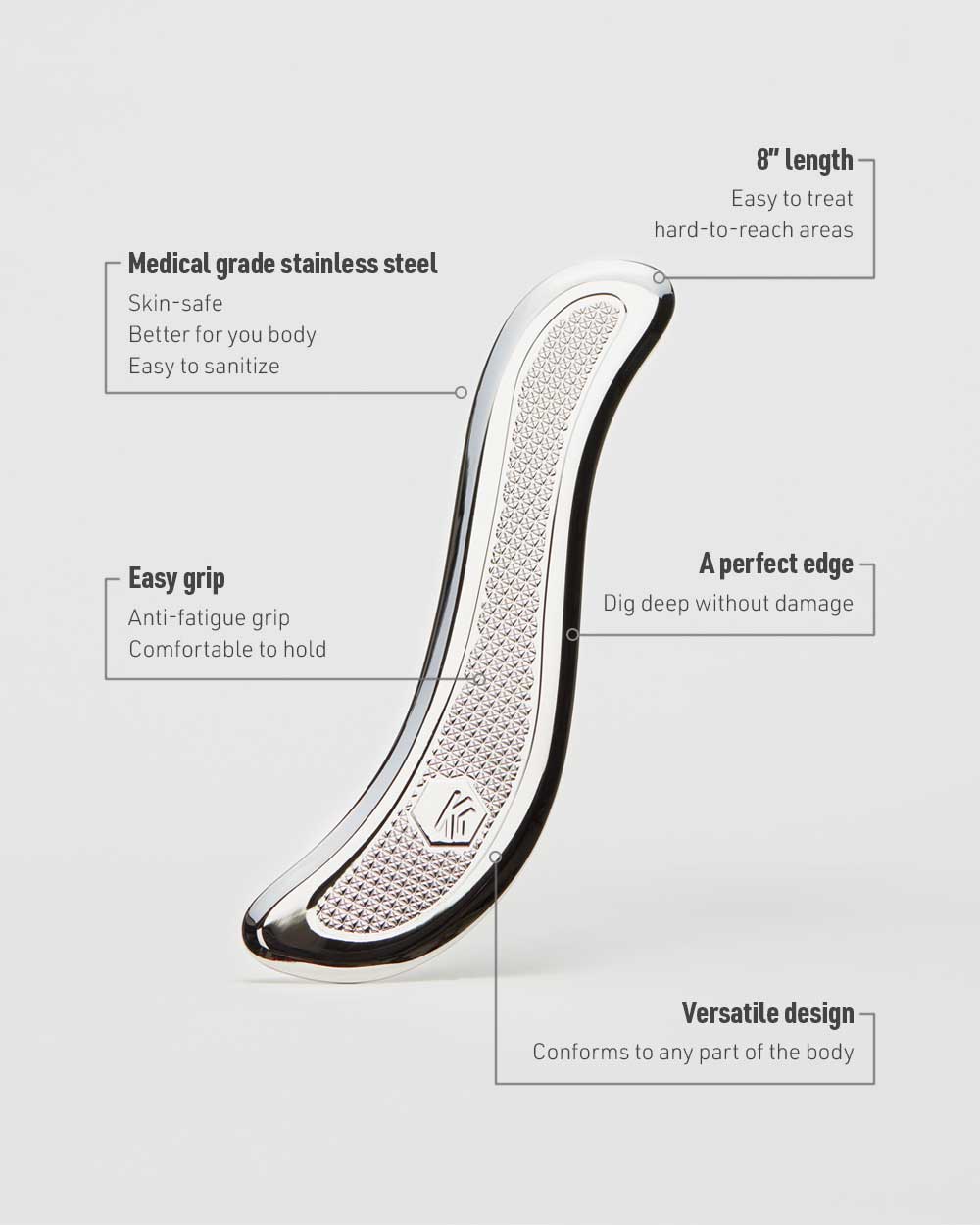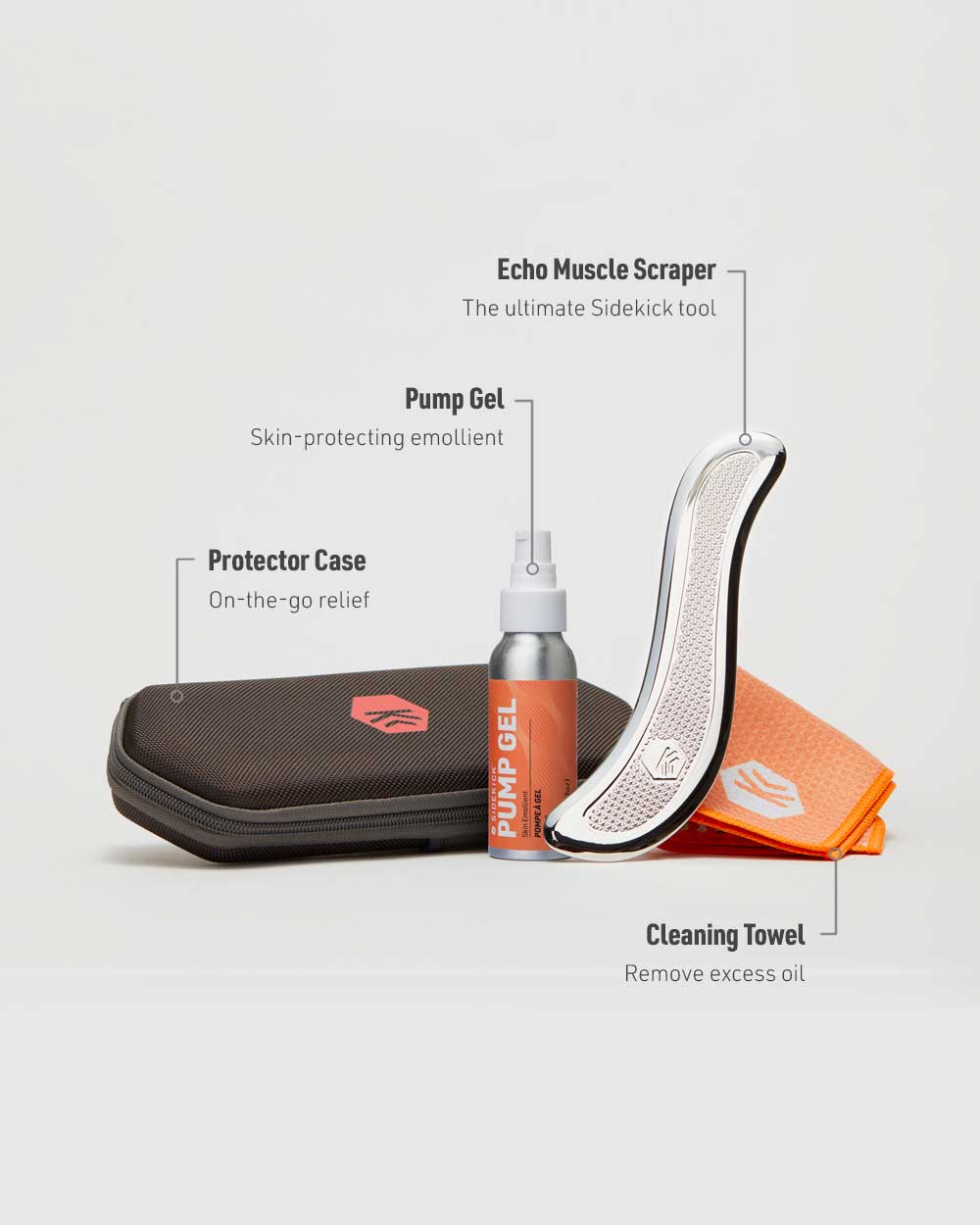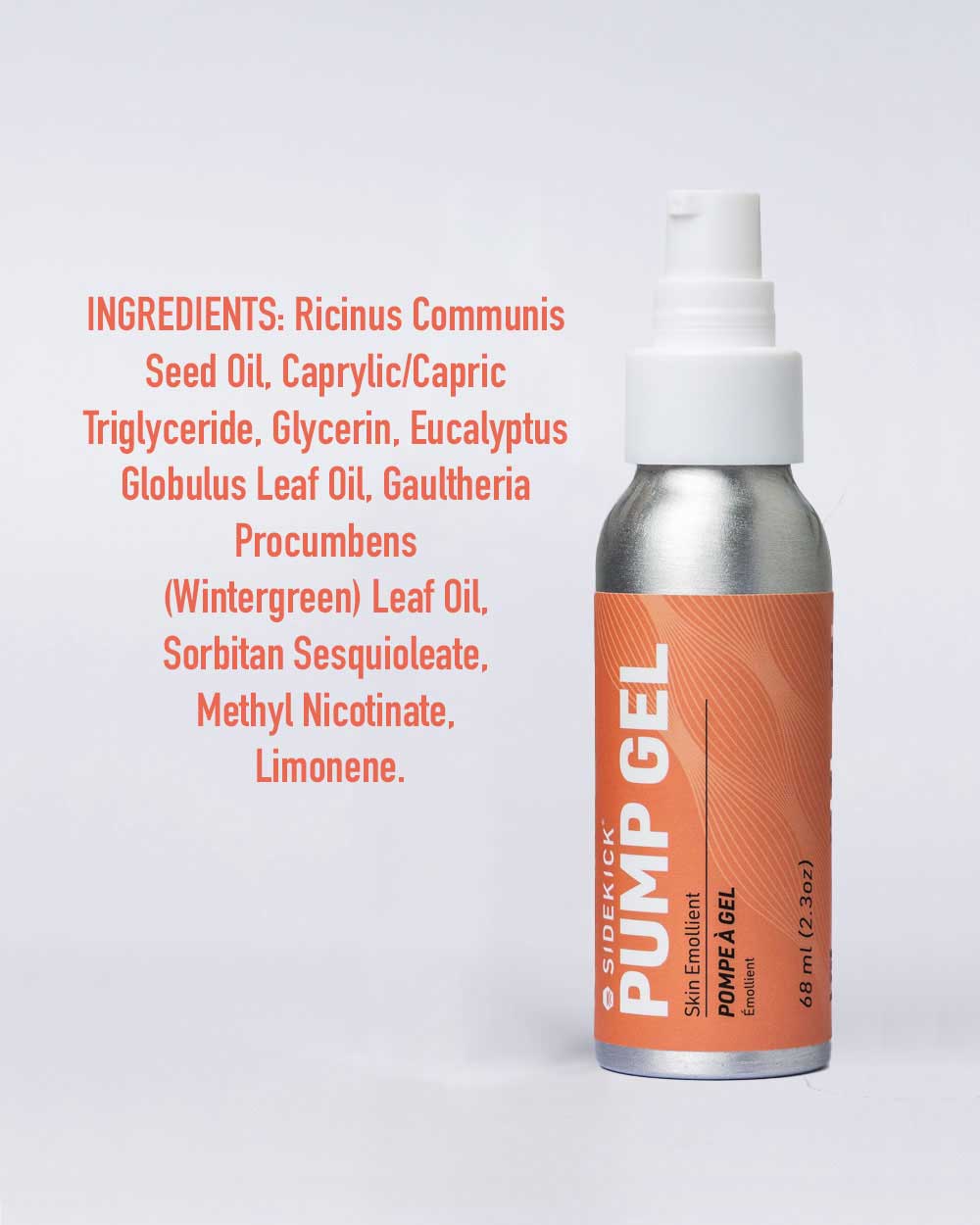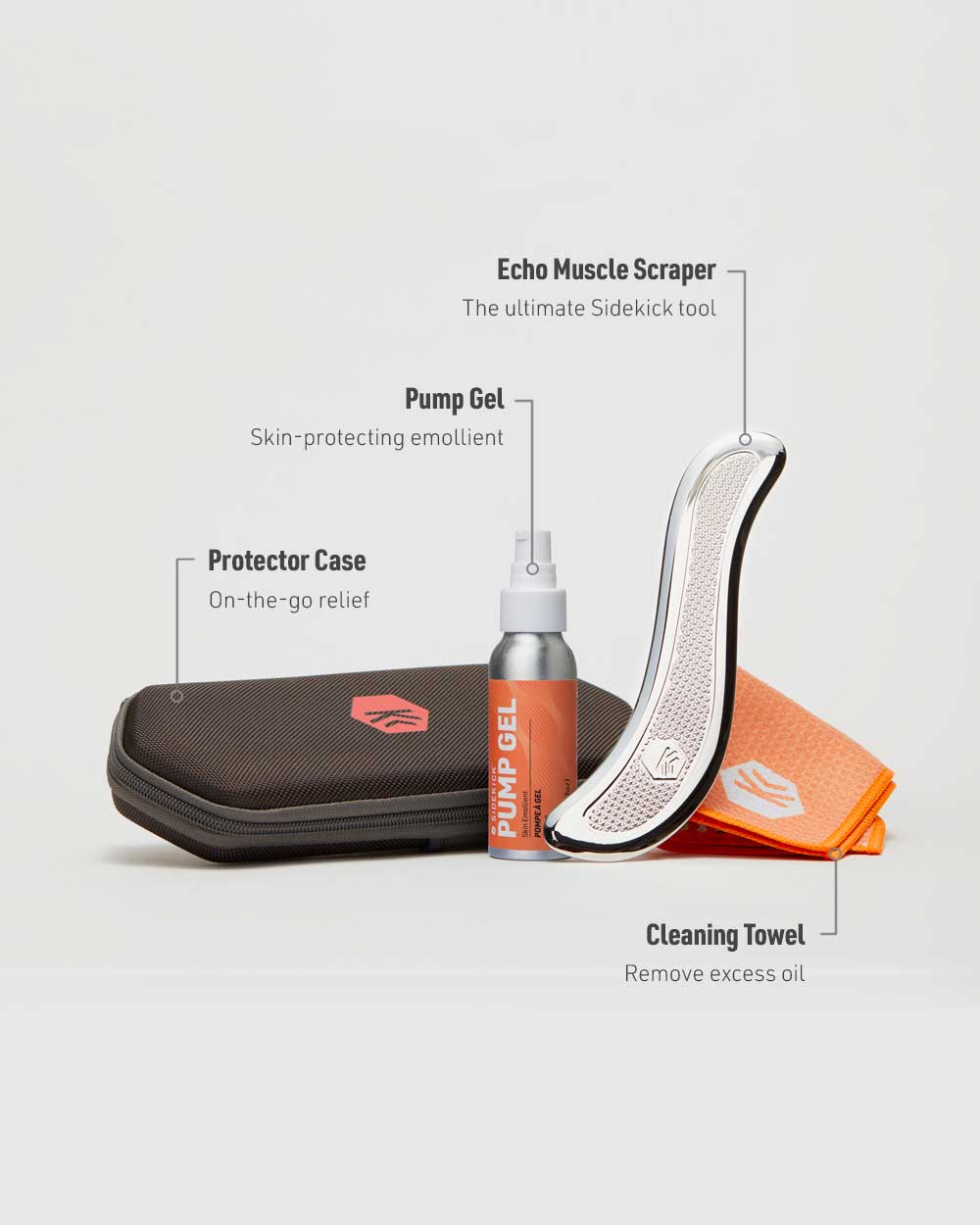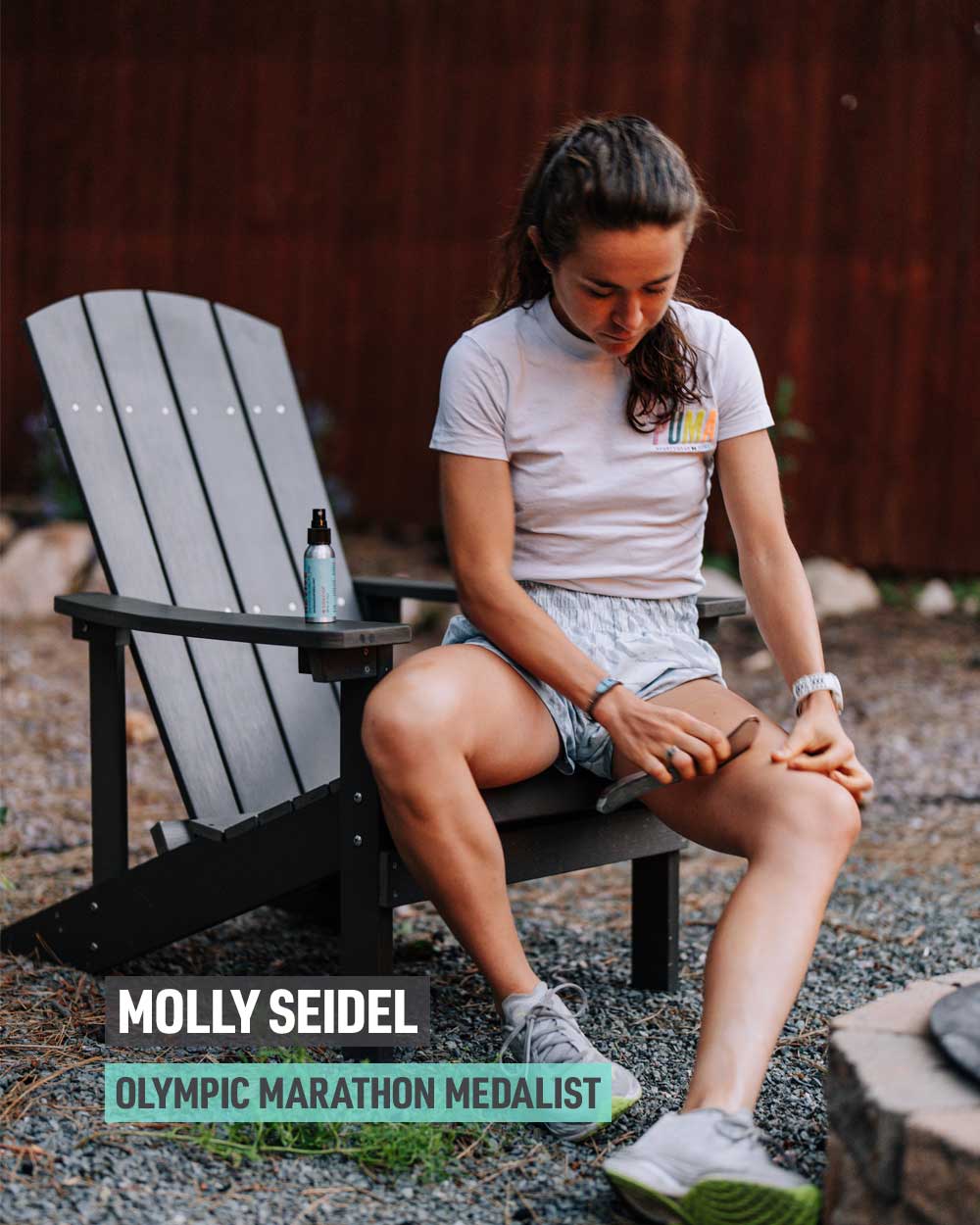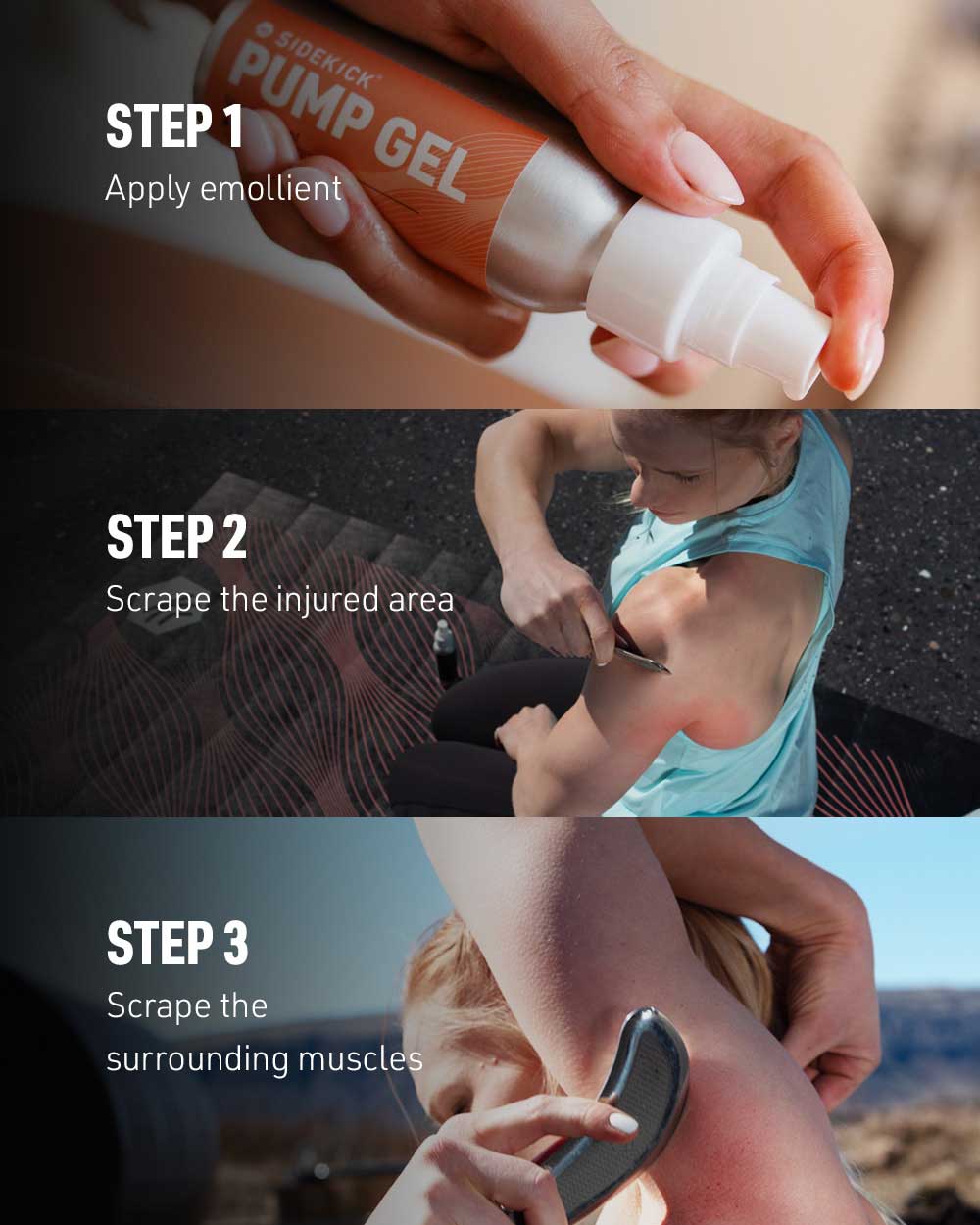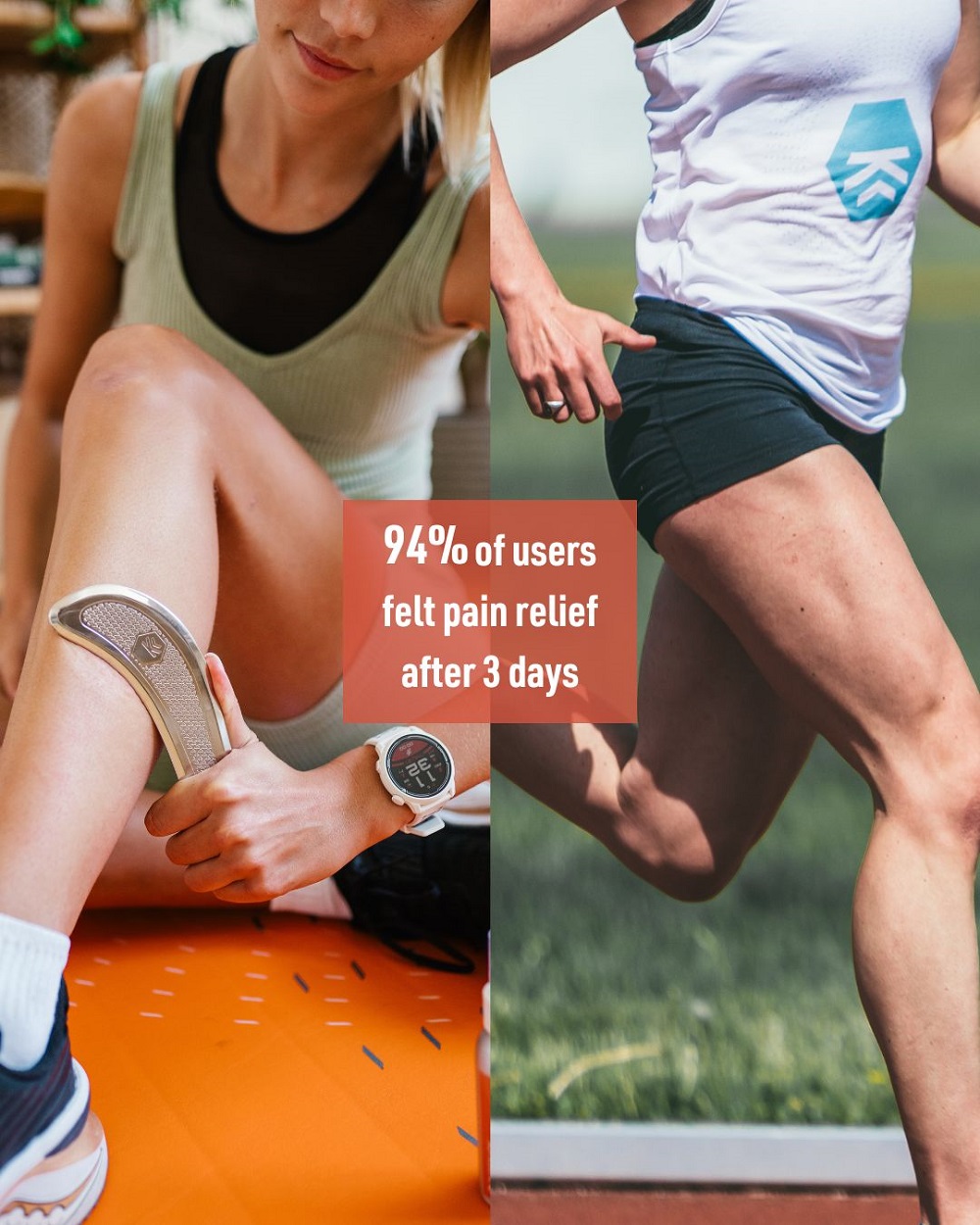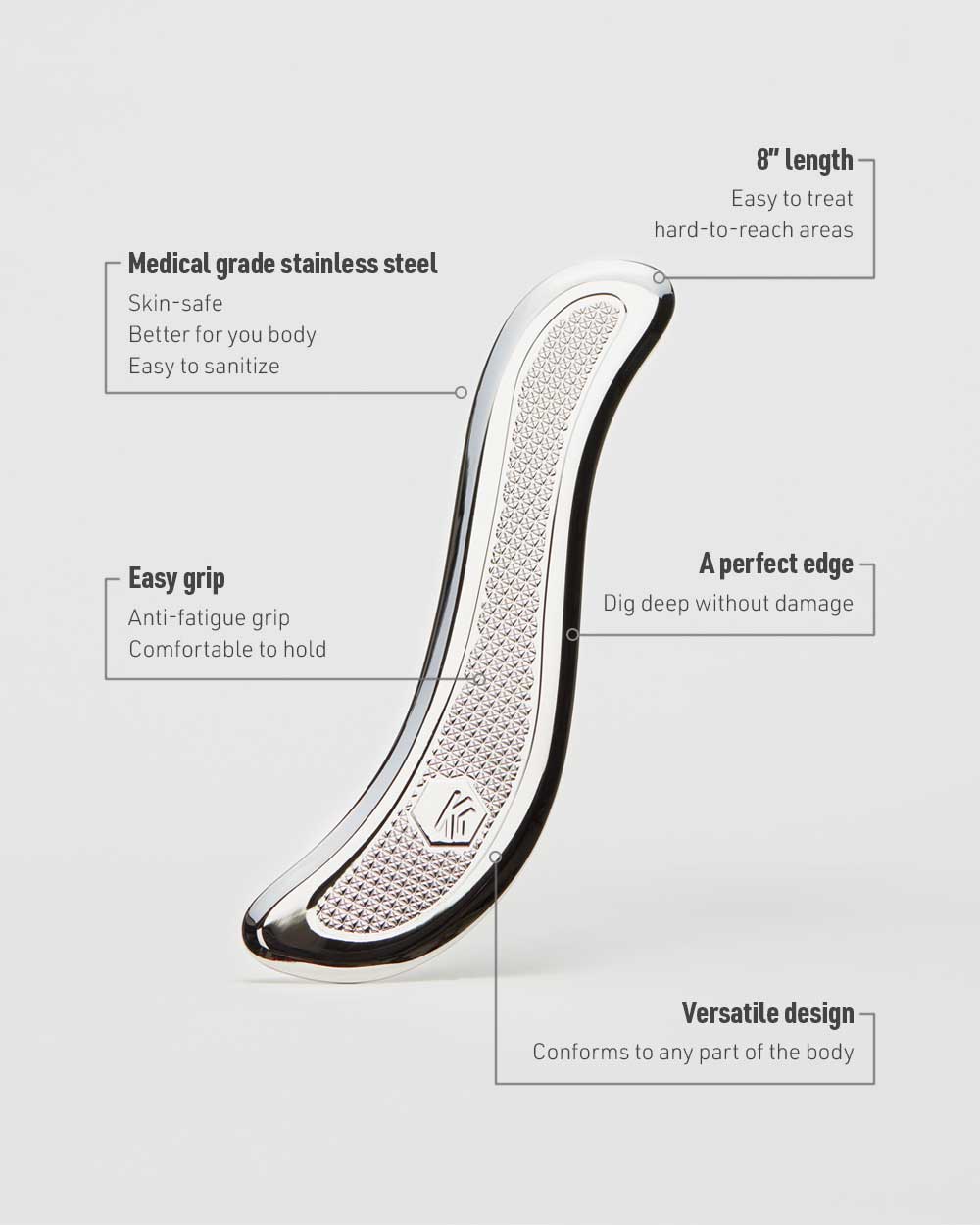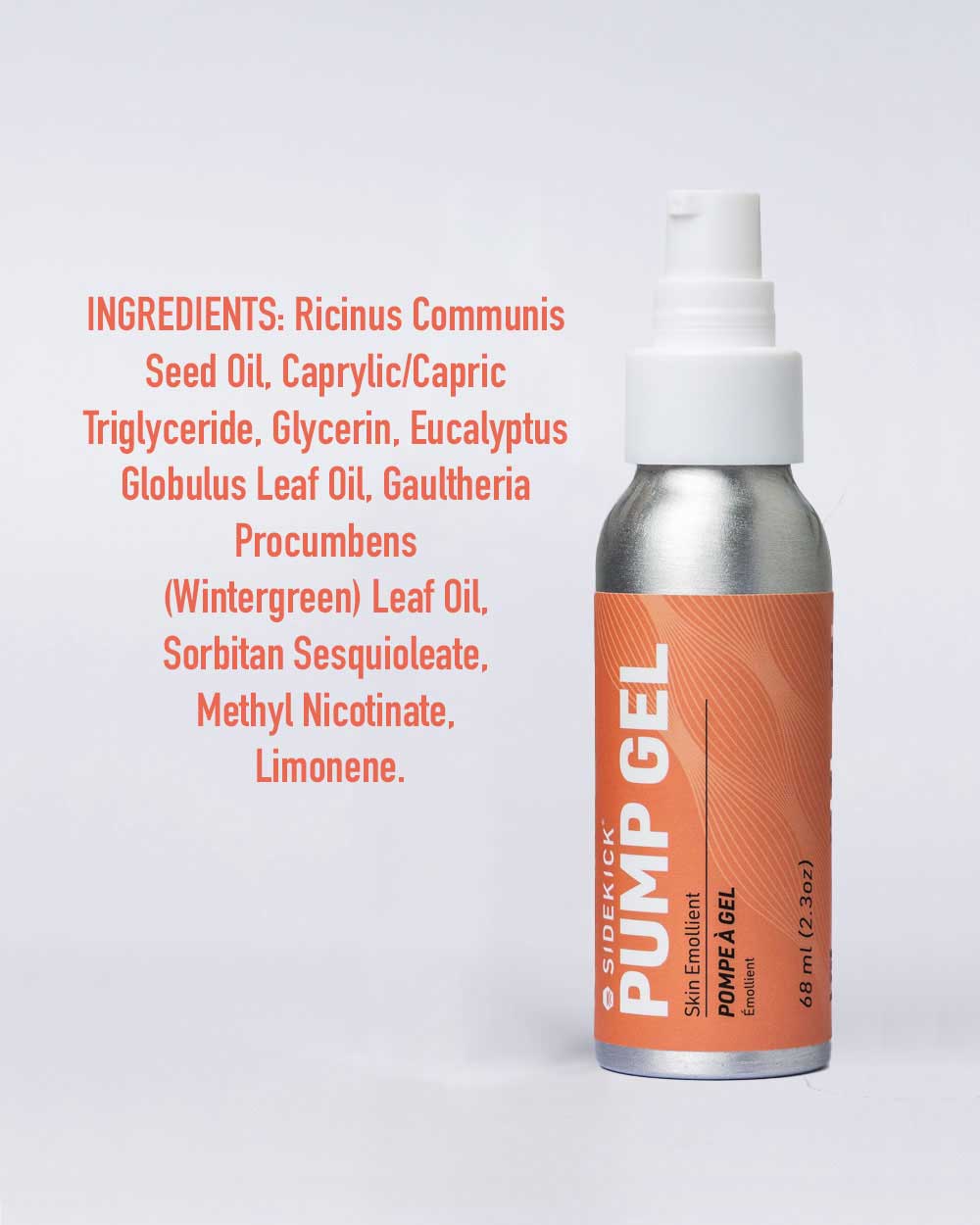 Molly Seidel's tool of choice
USA Olympic Marathon Medalist
Echo Muscle Scraper
Bestselling tool for running & sports injuries.
Feel instant relief.
The most comfortable muscle scraper you've ever experienced
Designed with medical-grade stainless steel to last a lifetime
Refined, dual-beveled edge for effective & feel-good pressure
Save time & money on PT by muscle scraping at home to accelerate healing
All purchases are backed by our Relief Guarantee. If you don't get any relief, feel free to return it within 30 days. No questions asked. Full refund.
A small investment for a lifetime of relief
Each purchase of a metal scraping tool comes with our lifetime warranty. If you notice any defect in workmanship or materials under normal use, we'll happily replace it for you.  We highly recommend storing and transporting your tool in the included case to avoid any possible damage. Full terms and conditions
here
.
Everything you need to kickstart your injury recovery journey 👇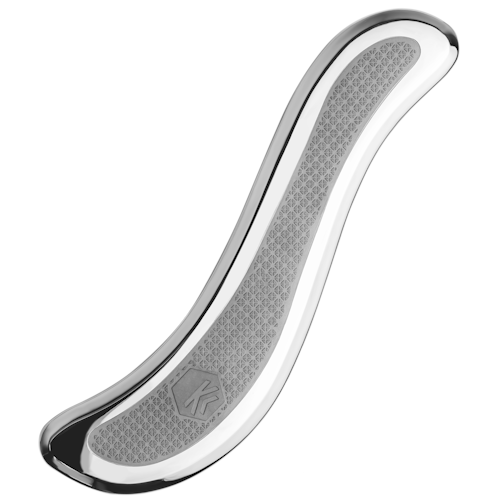 Echo Muscle Scraper
Medical-grade stainless steel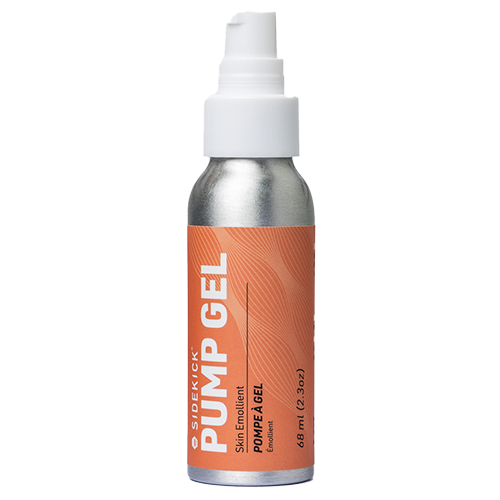 Pump Gel
All-natural emollient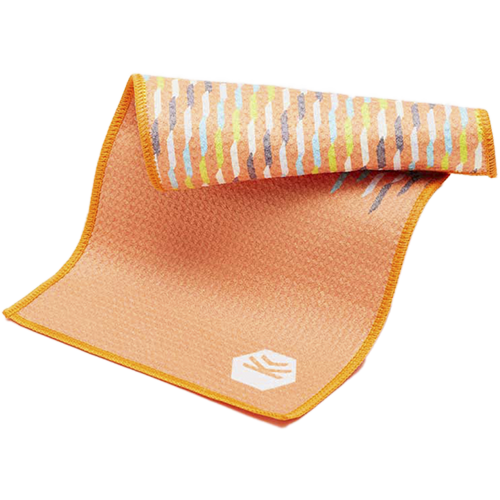 Cleaning Towel
Microfibre towel to wipe excess oil
Protector Case
Heavy-duty case for portability
What is your injury?
Select your injury to get detailed use instructions.

Free US Shipping

Lifetime Warranty
94% of injury sufferers felt pain relief after using Sidekick for only 3 days.
*Based on a clinical study conducted on diagnosed plantar fasciitis sufferers
Sidekick makes headlines
Our injury recovery tools have been featured in: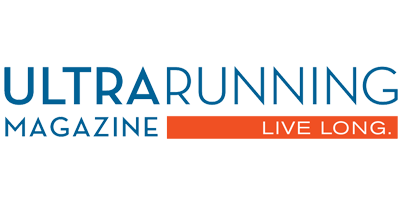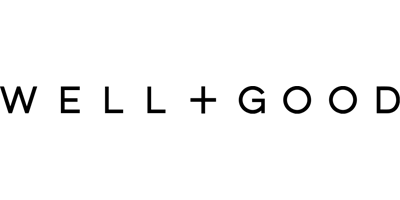 Instant pain relief
In as little as 3 minutes, you can enjoy deep, long-lasting relief without the hassle and cost of seeing a PT or massage therapist.
Safe & effective
Our proprietary treatment edge is refined and dual-beveled so it's sharp enough to work through your soft tissue, but not too sharp to damage your skin.
Molly Seidel treats with Sidekick
USA Olympic Marathon Medalist trusts Sidekick to help her perform at her peak.
Molly Seidel uses her Sidekick tool on problem areas to help her perform at her peak everyday.
Quality Tool
"Being able to use a scraping tool that has a weight to it and smoother edges, you notice that you're feeling a lot more in your muscles, whereas with less well-made tools, you'll feel it much more on the skin."
Injury Relief
"I've been dealing with a hip impingement, and it's been causing muscles in my hip, quad, and glutes to get extremely tight and painful. It's really important to work through this impingement with a scraping tool and be able to get into those deep muscles."
Echo Muscle Scraper
$210 AUD

Free US Shipping and Free Returns

Lifetime Warranty

Molly Seidel's tool of choice
USA Olympic Marathon Medalist
How does Sidekick work?
Muscle scraping accelerates your body's natural healing process.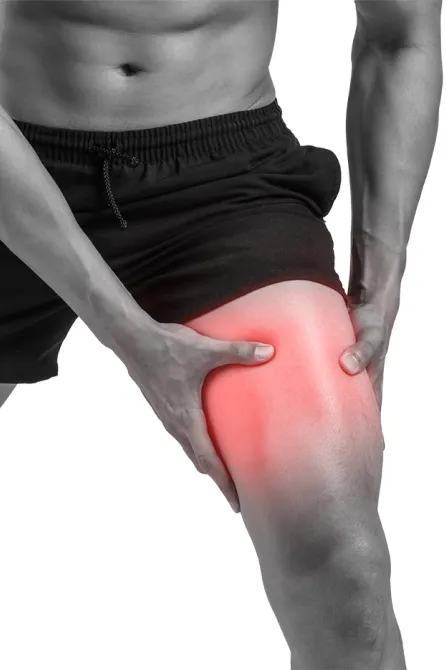 Before: Injured collagen fibers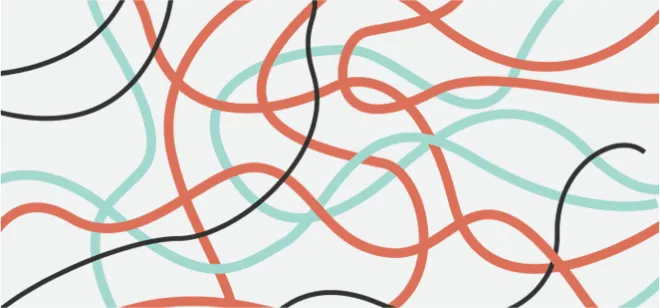 After: Healthy collagen fibers
Muscle injury is most often caused by collagen degeneration. To put it simply, that means there's less healthy tissue in your muscle.
Kickstarts the collagen repair process
Collagen is the building block of our tissues. Muscle scraping can boost collagen activity, like fibroblast proliferation and alignment of new collagen fibers. This means there will be plenty of new cells to facilitate healing of injured tissue.
Increase healthy blood flow
Injury healing involves the generation of new cells or repair of injured cells. This requires nutrients & oxygen which is brought to the injury through increased blood flow. Muscle scraping can increase microcirculation by up to 400%, bringing all the oxygen and nutrients that your muscles are craving!
3 minutes a day. That's all it takes.
Relieve pain in 3 easy steps with the Sidekick Echo Muscle Scraper.
STEP 1
Apply a thin layer of emollient included with your purchase.
STEP 2
Use firm pressure in all directions on the affected area.
STEP 3
Target the surrounding muscles for extra release.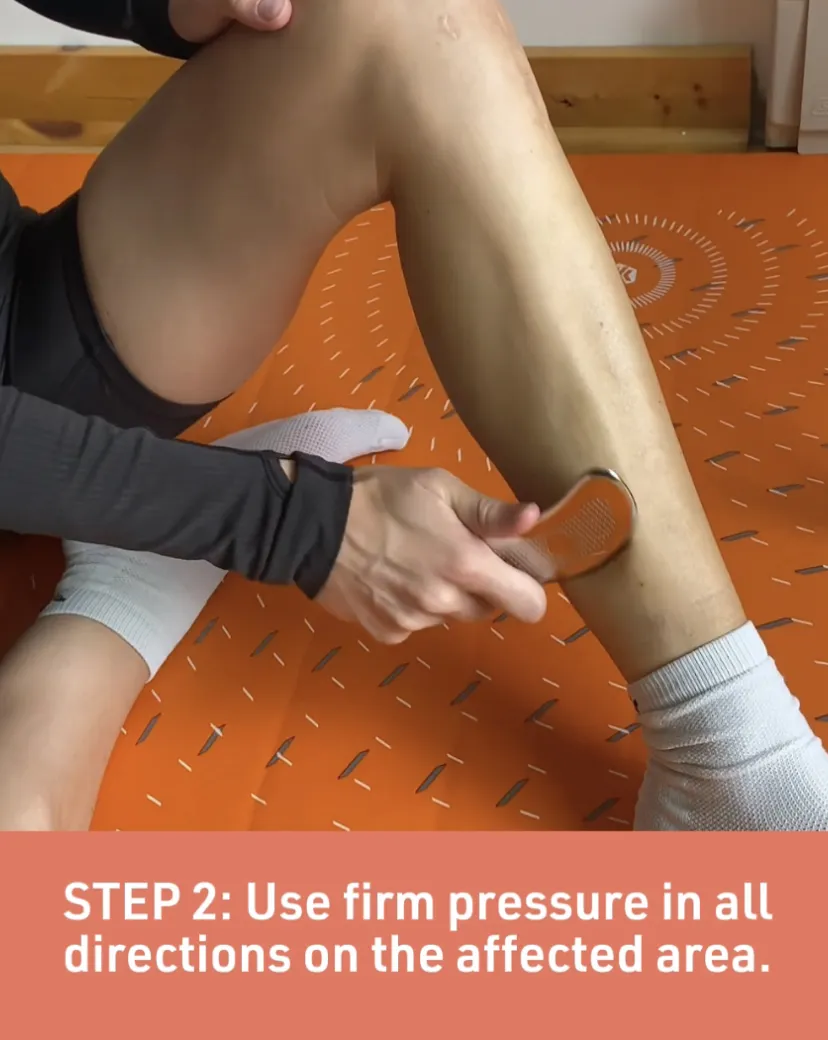 Feel the Sidekick difference
Medical-Grade
Built with medical-grade stainless steel, the Echo is non-porous, corrosion resistant, and backed by our lifetime warranty.
Anti-Fatigue Grip
Thanks to our patented comfort grip, you'll leave each recovery session looser, lighter and with no hand or finger fatigue.
Refined Edge
All Sidekick scrapers feature a refined, dual-beveled treatment edge that is sharp enough to work through your soft tissue, but not too sharp to leave lasting damage.
Have questions? We have answers.
We're hear to help you move past your injury as quickly as possible.
How does muscle scraping work?
Scraping creates an inflammatory response in your muscles which kickstarts the repair & recovery process. This process is what accelerates recovery.
Is muscle scraping safe to use?
Absolutely! Professionals ranging from physiotherapists to surgeons frequently recommend our tools to their patients as it is simple, effective and 100% safe.
Is muscle scraping painful?
Contrary to some beliefs, muscle scraping should not hurt. Since you are administering the therapy to yourself you are fully in control of the pressure you apply to your skin. Due to the nature of how the tool works even minimal pressure will provide improved recovery.
Should I see redness on my skin after scraping
Different people and body parts will be more prone to seeing petechiae (the bright red spots from scraping) on the skin. Therefore not seeing it doesn't mean that the tool isn't having any effect on your body.
What if muscle scraping doesn't work for me?
80,000+ customers have felt relief after using our tools, but in the off-chance you're not happy with it, we'll gladly help you process a refund within 30 days, no questions asked. We'll cover the return shipping cost so you have nothing to lose.
Can I use the edge of a butter knife?
We don't recommend using a butter knife as it can be too sharp and aggressive on your skin. Our proprietary edge is sharp enough to be effective, while not too sharp to leave lasting damage.

Additionally, the contours of our tools are designed to conform to each body part for more effective and efficient scraping.
Can I use a lacrosse ball?
Sidekick's scrapers help increase blood circulation to the area to accelerate recovery. Although a lacrosse ball applies targeted pressure, it is blunt compared to the proprietary edge on our muscle scrapers. Our refined scraping edge creates very pin-pointed pressure, signaling to your body to increase blood flow to that area. For this reason, you may see petechiae during scraping.
The reviews say it all
Over 80,273 happy customers
Richard F.
Purchased: Echo Muscle Scraper
High. Quality tool
This is an excellent tool. The design makes it easy and comfortable to use. Double beveled edge is very convenient. The shape is very versatile, useful for many body areas.
Chris H.
Purchased: Echo Muscle Scraper
Doing the job
My wife wanted this for a calf injury that was lingering. After a few weeks working on the area the problem seems to be gone.
Just what we hoped would happen.
Sandra P.
Purchased: Echo Muscle Scraper
Echo Muscle Reliever
I absolutely love the Echo. I use it myself, on my husband and my son. I have also brought it to football practice and use it on the players. Helps tremendously with tight, sore muscles. Best recovery tool I've ever purchased, and I have a theragun, rollers. The Echo scraper is the one we use most. Highly recommend!!
Mike A.
Purchased: Echo Muscle Scraper
Sidekick scraper
I was surprised how well the sidekick scraper worked on my calves, triceps and pectorals. I noticed less muscle strains at the gym with the above muscle groups and have been able to jump rope consistently again due to the use of the sidekick scraper.
Erin P.
Purchased: Echo Muscle Scraper
Where has this been all my life?!?
Bought the Echo as a semi-last resort for a sore irritated hamstring. Recommended by my CrossFit coach, it has honestly been a miracle worker. The pain has subsided significantly and I'm quite sure with regular use, it will not be a problematic reoccurrence. Highly recommend. Buy it. Now. Thank you!
Shannon K.
Purchased: Echo Muscle Scraper
Can't live without
I love this new addition to my pre- and post-run toolkit! It helps me work out tension and knots in my muscles that is a great compliment to my stretching and massage routine.
Angela L.
Purchased: Echo Muscle Scraper
Sidekick
I was impressed as soon as I opened the box for my sidekick. It was in a nice case and included a towel and Revive Spray. I didn't expect this. I first used the side kick on my left shoulder and was amazed how the perfect weight, shape and grip molded to my shoulder.

The tool also molds to every muscle and my surrounding joints. I have been using it for a week and have found that my shoulder and hip range of motion have greatly improved. To add, I also use the sidekick at night. It is relaxing and helps me fall easily to sleep. I have been recommending this tool to my family and friends.
Echo Muscle Scraper
$210 AUD

Free US Shipping and Free Returns

Lifetime Warranty