EASE MUSCLE PAIN & IMPROVE MOBILITY
Whether it's your neck, feet, or shoulders, tight, impinged muscles can put your life on hold. Scar tissue and adhesions just beneath the skin can limit blood flow to the area. As a result, you're left with uncomfortable stiffness and limited mobility.
Treat your body to a little TLC with Sidekick's Curve muscle scraper. This incredible tool works by providing myofascial release to your problem areas. Not only does this reduce pain, but it also improves overall mobility. From large muscles like the back and legs to smaller areas like the hands and knees, it offers versatile, all-over relief.
Each order also includes our Oasis Roller Gel. Made in Canada with all-natural, organic and skin-friendly ingredients, it lubricates the skin to eliminate friction while using the tool. Complete with a set of instructional videos led by a licensed chiropractor, the Curve is a must-have for new and experienced users alike.
While foam rollers and lacrosse balls only offer compression to the muscles, the Curve also helps shear and stretch tissue. Made with 100% Bian Stone, it provides appropriate pressure for relief in as little as 3 minutes.
WHY CHOOSE THE CURVE MUSCLE SCRAPER? 
Relieves muscle pain and tension

Effective for both large and small muscles
Includes lubricating Roller Gel
Includes lifetime access to Sidekick University
Made with 100% Bian Stone

 
Try Today Risk-Free with Our 30-Day Return Policy.
Order Your Curve Muscle Scraper for Effective, In-Home Treatment.
*Stock is limited. Order today to ensure availability.
US Customers
Q: How much does shipping cost?
A: Shipping is FREE to all locations in the USA. Expedited shipping is available for a small additional fee which will be displayed upon checkout.
Q: Do you ship to PO Boxes or Military APO/FPO addresses?
A: Yes, we ship to both PO boxes and Military APO/FPO addresses.
Q: Do you ship to Alaska or Hawaii?

A: Yes we do! Please follow the checkout process for exact shipping times.
Q: How long will it be before I receive my order?
A: For standard shipping, please allow 1 day for processing and 5-7 business days for shipping. Please allow additional time for shipments to U.S. Territories and PO Boxes. For expedited shipping, the delivery time will be displayed on checkout.
Canada Customers
Q: Why do you not offer free shipping in Canada?
A: Canada Post is notoriously expensive due to unions, population size and things out of our control. For this reason, we need to charge shipping. In fact, we cover a large portion of the Canadian shipping costs to alleviate the burden on our Canadian customers.
Q: How long will it be before I receive my order?
A: For Canada Post Expedited Parcel, please allow 1 day for processing and 5-7 business days for shipping. For Canada Post Xpresspost and Canada Post Priority, please allow 1 day for processing and 1-3 business days for shipping. Canada post only offers business day parcel pick up, therefore any orders placed on the weekend will be processed on Monday. If Monday falls on a public holiday, then it will be processed on Tuesday.
Q: Will my Canadian Order have duties and Taxes?
A: No, we ship from Canada so you will not have any additional charges after your checkout.
Q: Why is my order taking longer than quoted at checkout? 
A: Unfortunately, we have no control over the delivery time that is quoted at checkout once it is in the hands of Canada Post. We have seen shipping delays during peak time such as holidays as well as during the Covid 19 Pandemic. We will always do our best to work with Canada Post and yourself to ensure a successful timely delivery.
International Customers
Q: Do you ship internationally?
A: Yes we do!
Q: Can you tell me more details regarding the different shipping options?
A: Absolutely! All our shipments go through DHL, Fedex or Canada Post. Based on you location you will be given the best options available during checkout.
Q: Are there Duties and Taxes on international shipments?
A: Yes. Each country has different tariff charges which we have no control over, but it's likely you will be charged a duty and tax rate on your international shipment.
Customer Reviews
05/18/2020
Ethan B.
United States
My experience
This tool changed my life! I am a mma fighter who never cared about recovery for the 8 years I've been training and I received a terrible back injury 6 months ago. I've been using your wonderful tool with the pso-rite and a foam roller. And let me tell you. With your tool alone I've never felt better. Since this pandemic started I've forced myself to focus on my body and I definitely needed a sidekick! I've been able to target certain areas and I absolutely love it! Something a foam roller can't do! Thank you so much for bringing this to light I'm so grateful and excited to finally bring my body to tip top shape before my next bout! Thank you!
07/17/2020
Matthew G.
United States
The item is outstanding but the constant emails are ridiculously annoying. I am constantly pestered to "upgrade to the next model" after reporting them as spam and unsubscribing.
Hi Matthew, thanks for your feedback! We are actually in the process of reviewing and updating our emails, so your input is very timely! I've already forwarded it to the relevant team members. I appreciate you taking the time to let us know your thoughts. Feel free to reach out at any time if you have any further comments. Have a great weekend! Hin
07/16/2020
Kristy B.
Canada
Saved my Runs
Not knowing how I was going to run my yearly 1/2 Marathon with an injured knee I was willing to try anything. Since the sidekick wasn't too pricey I decided to give it a shot and HELLO! It's like the injury never occurred! So thankful so this tool and I'll be recommending it to all clients.
07/16/2020
Emily N.
Canada
07/14/2020
twyla D.
Canada
Damaged
My experience was great up untill I receive my order :( I believe my curve was damaged in the mailing process .I'm in Canada.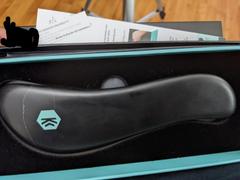 Hi Twyla, Thank you for bringing this to our attention. These white lines are actually a natural property of the stone used, and shouldn't have any effect on its use. But no worries, Sidekick got your back! Your Curve is still covered with our Replacement Warranty! Should you wish to still go for a replacement, kindly update us with your Shipping Address (send to info@sidekicktool.com). Or if you want to try it out first and let us know later on if it indeed cracked/broke, we will still honor the replacement I'll keep an eye out for your response. (will send this response to your eamil via info@sidekicktool.com as well) Sincerely, Maylyne | Customer Support Champion