HOW SCRAPING WORKS
HOW SCRAPING HELPS REPAIR MUSCULOSKELETAL INJURIES
If you are an athlete or have regular tension from an acute injury or a repetitive strain, the injury site can have lower oxygen consumption and slower healing times. Scraping has been proven to help with the repair of soft tissue function by stimulating the area. This mechanism delivers blood and oxygen to the site. Scraping causes inflammation that triggers the body's response to start healing the area.
In addition to existing injuries, research also indicates that scraping can be used proactively to prevent tendinopathy. When scraping is done proactively, it can increase the tendon resting length when compared to simple stretch or other surface level treatments.
THE DEEPER SCIENCE
When your muscles are working, they consume energy and output toxic metabolites. In some cases, strenuous physical activity will even tear the muscle fibers and create scar tissue or adhesions. Muscle scraping causes bruising, which sends signals to your body to begin reconstruction. Reconstruction involves building collateral vessels to bypass the previously damaged vessels. An increase in temperature to facilitate signal transmission to the body to clean up toxic metabolites, debris/adhesions, and broken vessels. Antioxidants come to remove toxic metabolites. Muscles are left with collateral vessels that are stronger and more efficient.
THE HISTORY OF SCRAPING
GUA SHA
Sidekick's line of muscle scrapers are based on the technique known as Gua Sha, a 2000-year-old Eastern medicine practice. By applying our tool against your skin, it releases adhesions underneath that cause pain and impingement.
ANCIENT ROME'S STRIGIL
In ancient Greece and Rome, a small metallic tool known as a "strigil" was used after vigorous exercise by athletes and warriors to help remove dirt and perspiration.
IASTM
Modern Instrument Assisted Soft Tissue Mobilisation (IASTM) treatment was founded by David Graston who developed a set of instruments to apply scraping techniques to the body.
SIDEKICK FOR THE MODERN ATHLETE
Sidekick tools were developed based on the effectiveness of ancient tools and modern wisdom based on research surrounding IASTM. We wanted to make scraping accessible to everyone by creating a small collection of tools that allow you to easily target every muscle group in your body. We developed tools that meet the needs of the modern athlete with special beveled edges to allow you to customize your recovery to your needs. In order to get the most out of treatment, we understood that our tools had to be easy to use so our patented grip was designed to reduce hand fatigue and allow for maximum control.
SCRAPING
VS

VIBRATION

What's the difference?

Muscle Shearing

Promotes blood flow to specific areas

Muscle Shearing

Helps with lymphatic drainage for sore muscles

We recommend using Sidekick's line of scraping tools for soft tissue injuries and muscle aches. It's best to relieve pain or as a proactive practice to prevent injury.

Pulse Therapy is excellent for post-workout muscle maintenance, and
HOW SIDEKICK PRODUCTS ARE DIFFERENT
Our unique design for enhanced at-home recovery
RECOVERYEDGE™
Our proprietary design strikes the perfect balance between safe and effective to help you achieve in-home results. We worked diligently to develop a product designed to allow you the control you need to effectively target areas that require treatment. Using the wrong tool (like a butterknife) with an edge too sharp can cause lasting damage, while too dull will be ineffective.
PATENTED ANTI-FATIGUE GRIP
Our Echo, Eclipse and Bow feature additional comfort with our patented X-Grip. This design allows for you to focus on recovery while minimizing hand-fatigue. We
SIDEKICK UNIVERSITY
Every Sidekick tool includes lifetime access to Sidekick University. Our library of physical therapist and chiropractor led videos are designed to optimize your mobility and recovery.
SHOP ALL SIDEKICK SCRAPERS
INNOVATIVE RECOVERY
How are Sidekick's recovery tools different from other forms of recovery?
SCRAPING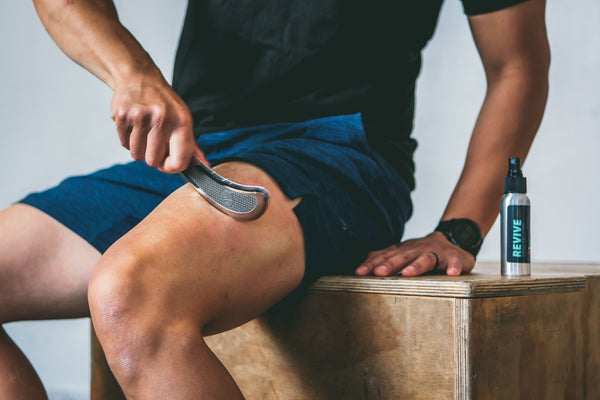 Scraping can:
Improve healing time from soft tissue injuries
Improve circulation and blood flow
Assist in breaking up adhesions and scar tissue to increase mobility.
VS.
VIBRATION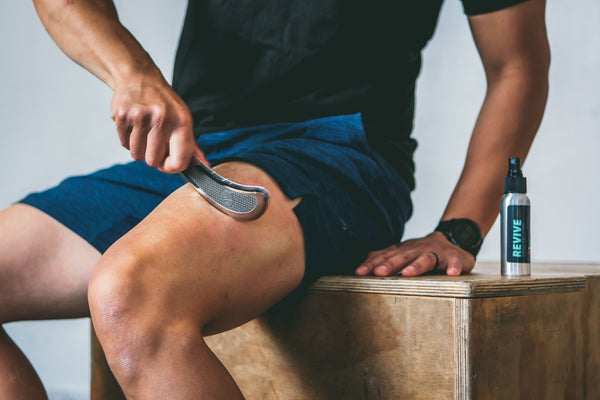 Foamrolling can:
Improve flexibility and range of motion
VIBRATION
Vibration can:
Reduce delayed onset muscle soreness (DOMS)
Increase range of motion and circulation
DIG DEEPER
Still not convinced?Browse our

whitepapers

and

blogs

to learn even more.
Please login and you will add product to your wishlist