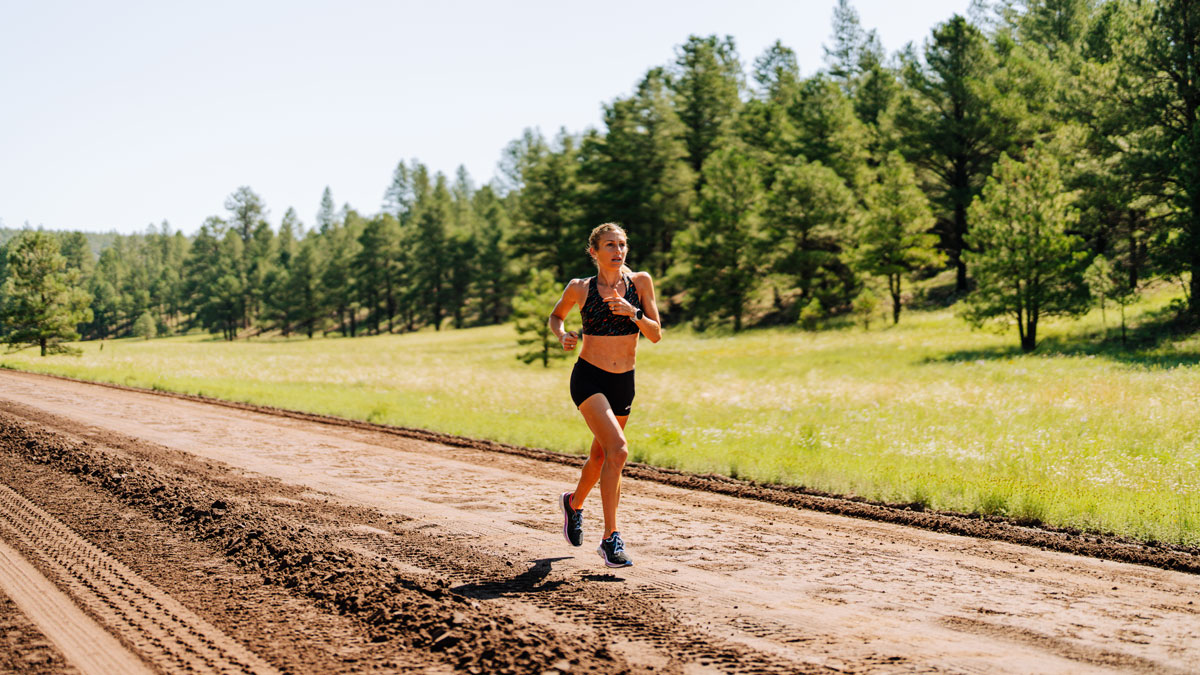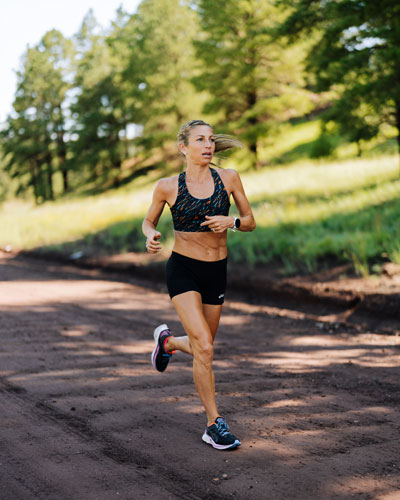 sara hall
professional marathoner
Sara Hall is one of the most decorated athletes in US history. She was a 7-time All-American, and at Stanford University started dating her now husband, Ryan Hall. Ryan went on to become one of the greatest US long distance runners in history running the fastest marathon (2:04:58) and setting the US Half Marathon record (59:43).

Sara went on to capture 10 US National Titles ranging from the mile to the marathon, and set the US Half Marathon record of 1:07.15 in January 2022. Ryan and Sara have four daughters, Hana (20), Mia (16), Jasmine (12), and Lily (9).
2nd fastest American Half-Marathon time (1:07.15). On January 2022 when she set it, it was the fastest at that time.
7-time All-American at Stanford University
10-time US National Champion
Only athlete in history to win both the USATF Mile and Marathon National Titles
Marathon personal best: 2:20:32, making her the third-fastest American woman in history

"Almost every morning for the last 8 years I've used muscle scraping to work through my legs before I run."
Tell us about your athletic background.
‍I started running when I was 13 and just fell in love with exploring in the trails and with competing, I started with shorter track events like the mile and 5K after college but kept moving my way up to the marathon and now I mostly do ½ marathons and marathons. 

‍‍What advice would you give your younger self?
The advice I would give my younger self is that your self-worth is not dependent on your athletic performance. I had kind of immediate success in the sport and as a result I based my self-worth around that running success, it took a lot of failure for me to realize that I am worthy of love and acceptance just for who I am, and as a result I feel more free to take big risks in races and free to fail. There is always another race, I am able to rebound a lot faster and enjoy the sport a lot more in that way.

‍How do you treat your recovery differently that has allowed you to be your best?
I feel like recovery is my strength as an athlete, I've been able to run relatively more races and more back to back races, part of that was just through experimentation and I think some of it is naturally just being a quick healer. I think also its how you take care of yourself, learning how to do the maintenance day in and day out at home, also getting great work with great therapists. All of that is a process of rebuilding your body and making sure you are staying healthy. 

‍How do you handle your recovery?
I see recovery as an art, I am always getting new trick and tools to continue to recover faster. That's really the name of the game, the hard training is one part but you have to be able to recover from it and stay healthy to get to race day and really benefit from that hard work. I am always trying new things and experimenting but also, I have my tried and true things that really work for me. 

‍What do you think you have done differently to be better than everyone else?
‍I think something that has really helped me be successful is just getting really good at listening to my body. From the moment I wake up taking an inventory of my body, where are the tight areas, where do I need to pay some attention before I head out and run. As well just in training in general, listening to your body not pushing when you are reaching that line but finding that sweet spot of where you should be training each day.

‍Why did you decide to work with Sidekick?
‍I was really excited to find Sidekick. I had already been doing scraping for 9 years by the time I found them and the tool I was using is no longer being produced. I really loved their line of tools and scraping has helped me so much in my career, I do it every single morning before I run pretty much without fail. I bring it with me everywhere with me, all over the world. Its so nice to be able to do self-massage on yourself before a race. I have a great team of therapists that I see regularly but I cannot bring them with me everywhere and its too expensive to see them every day. So, having a tool that I can use wherever, whenever has really helped my stay injury free.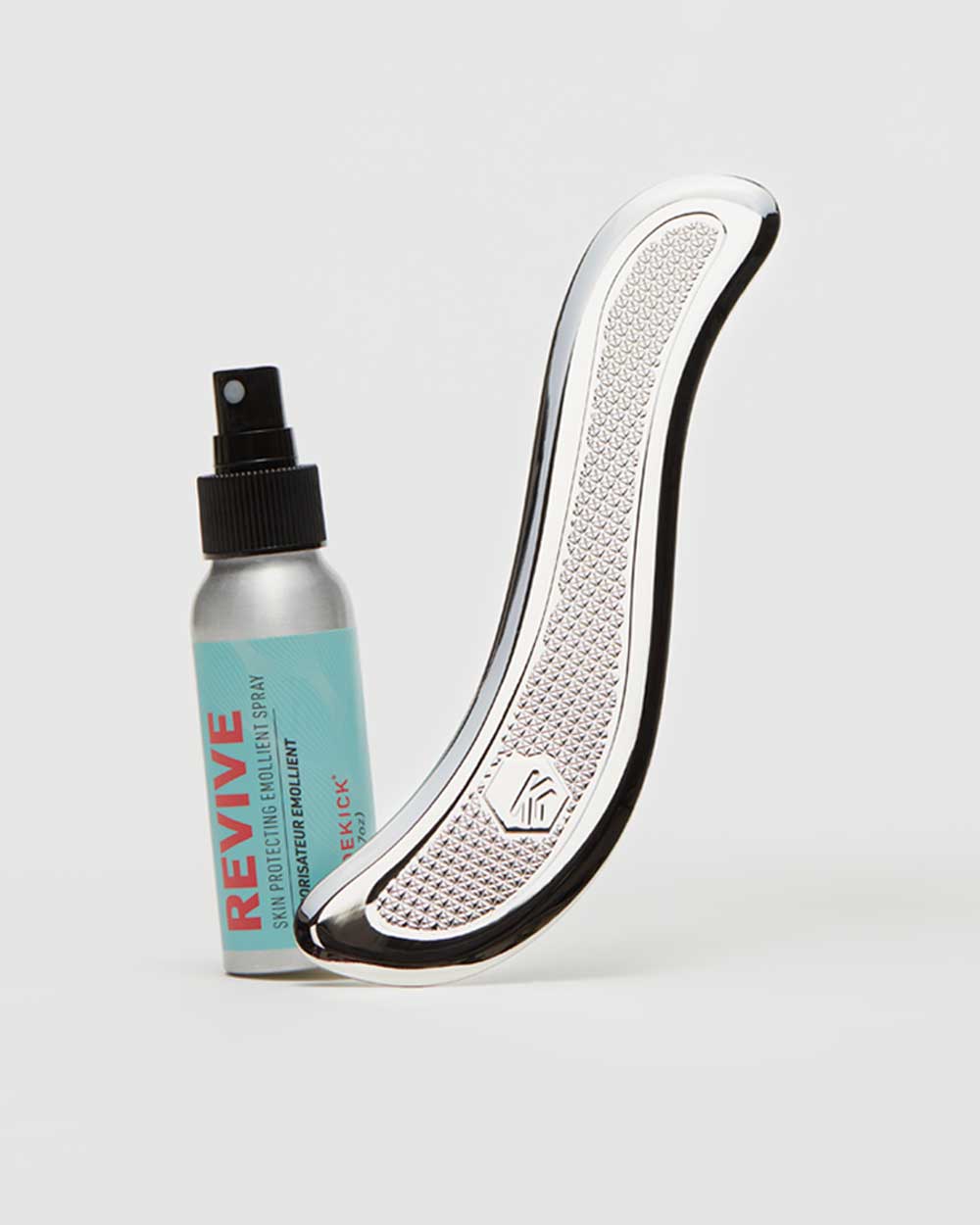 ECHO MUSCLE SCRAPER
Our premium scraper for those serious about muscle recovery.
shop now