Can't decide, then don't. With our "I want it all" Bundle,  you don't have to!

This bundle has everything you need to get the best recovery, and you save 15%
Your Choice, Swerve or Echo Stainless Steel Muscle Reliever
Fuse Vibration Therapy Peanut Ball
3-Pack Revive Muscle Warming Spray
Lifetime access to Sidekick University 
With the Swerve and Echo Muscle Reliever by Sidekick, you can enjoy deep, long-lasting muscle relief without the hassle and cost of seeing a professional! Our groundbreaking tool delivers steady relief to your problem areas, increasing blood flow and recovery. Constructed with a unique 6-curvature design, you can effectively target your neck, back, legs and any muscle in between!
As effortless to use as it is effective, our Fuse Vibration Therapy devices eliminate the need to roll! Our secret? Lightning-fast vibrations, ranging from 2000-3600 RPM. With 3 levels to choose from, you can select the intensity that's right for you. With a 3.5" diameter and a Pressure Wave mode that varies vibrations, it can be used on both large and small muscle groups for soothing full-body treatment!
The Revive Emollient Spray avoids direct contact with the skin and is perfect for those who want to share their Sidekick tools but do not want to spread germs and bacteria. Our Revive Emollient Spray is formulated using 100% All Natural ingredients. It also acts as a lubricant to eliminate the friction between the skin and the Echo Muscle Reliever. This is especially useful for dry skin, or those with lots of hair. The spray is made in Canada with organic ingredients so you don't have to worry about skin breakouts.
Each bottle is 80ml (2.7oz)
Try Today Risk-Free with Our 1-Year Warranty!
 *Stock is limited. Order today to ensure availability.
Order Your Bundle Today.
US Customers
Q: How much does shipping cost?
A: Shipping is FREE to all locations in the USA. Expedited shipping is available for a small additional fee which will be displayed upon checkout.
Q: Do you ship to PO Boxes or Military APO/FPO addresses?
A: Yes, we ship to both PO boxes and Military APO/FPO addresses.
Q: Do you ship to Alaska or Hawaii?

A: Yes we do! Please follow the checkout process for exact shipping times.
Q: How long will it be before I receive my order?
A: For standard shipping, please allow 1 day for processing and 5-7 business days for shipping. Please allow additional time for shipments to U.S. Territories and PO Boxes. For expedited shipping, the delivery time will be displayed on checkout.
Canada Customers
Q: Why do you not offer free shipping in Canada?
A: Canada Post is notoriously expensive due to unions, population size and things out of our control. For this reason, we need to charge shipping. In fact, we cover a large portion of the Canadian shipping costs to alleviate the burden on our Canadian customers.
Q: How long will it be before I receive my order?
A: For Canada Post Expedited Parcel, please allow 1 day for processing and 5-7 business days for shipping. For Canada Post Xpresspost and Canada Post Priority, please allow 1 day for processing and 1-3 business days for shipping. Canada post only offers business day parcel pick up, therefore any orders placed on the weekend will be processed on Monday. If Monday falls on a public holiday, then it will be processed on Tuesday.
Q: Will my Canadian Order have duties and Taxes?
A: No, we ship from Canada so you will not have any additional charges after your checkout.
Q: Why is my order taking longer than quoted at checkout? 
A: Unfortunately, we have no control over the delivery time that is quoted at checkout once it is in the hands of Canada Post. We have seen shipping delays during peak time such as holidays as well as during the Covid 19 Pandemic. We will always do our best to work with Canada Post and yourself to ensure a successful timely delivery.
International Customers
Q: Do you ship internationally?
A: Yes we do!
Q: Can you tell me more details regarding the different shipping options?
A: Absolutely! All our shipments go through DHL, Fedex or Canada Post. Based on you location you will be given the best options available during checkout.
Q: Are there Duties and Taxes on international shipments?
A: Yes. Each country has different tariff charges which we have no control over, but it's likely you will be charged a duty and tax rate on your international shipment.
Customer Reviews
06/18/2020
Adam H.
United States
Making my recovery routine BETTER!
I absolutely LOVE this bundle! I use the scraper almost every day... EVERY DAY! The Fuse vibration therapy device is a complete revelation! It has taken rolling out those deep pains to a whole new level. If you don't have these tools, BUY THEM NOW! You won't regret it!!!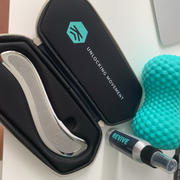 06/16/2020
Barb T.
Canada
The missing peice of the puzzle
I'm so friggin grateful and happy that I finally ordered this tool. I don't know what I would be doing right now without it. Pain relief and mobilization of stuck joints.
06/03/2020
Sako I.
United States
Great Marketing. Useless product.
This company did a great job of selling me an almost 200 dollar paper weight. The way they market it with pro athletes and videos of scraping make you think there are legit therapeutic benefits to this device. Its just polished snake oil endorsed by cross-fitters. The vibrating roller is far too small (I am 6'2 and over 200lbs) and oddly shaped not to mention incredibly loud on my hardwood floors. The Echo Gua Sha tool does not produce any red markings nor does it provide much relief. Rubbing it on my calves produces no sensation other than irritation. I found that my $30 foam roller does a better job doing myofascial release than this tool ever has. The eucalyptus spray to ease the friction is sticky, smells bad and does not come off easily. Waste of time and money. Wish I could get my money back but Covid-19 prevents this.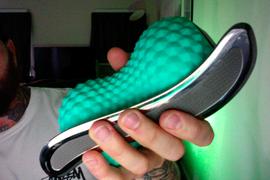 Hi Sako, We are very sorry that the I Want It All Bundle didn't work out for you like most of our customers. No worries, I checked your purchase history and I learned that your package was delivered just last 11May2020, hence you are still eligible for the 30-Day Return/Refund Warranty :) Kindly check your email for I have sent you the Free Return Label. Kindest regards and stay safe! Maylyne | Customer Support Champion
06/02/2020
Hannes V.
Estonia
Massage roll is epic
Having had rhomboidish area problem for two years, sidekick resolved the problem. Couple of rounds for my back and i have zero pain or thightness. Almost gave up my favourite sport. Thank you Sidekick! Battery is little weak but it charges really quickly as well.
05/11/2020
Darrin H.
United States
Want it All Bundle
I ordered the bundle because I have problems with my calves and areas around my knees getting very sore and cramping post workouts.  I'm so glad that  I decided to make the purchase.   Since I've started using the ECHO and the FUSE I am able to use them to maintain the areas where I normally have issues.  This is a great deal.  I highly recommend buying a bundle.